It's all about vision and originality, according to 2018 color of the year
Were you dreaming of sugar plums over the holiday season? Or coveting an incredible cashmere sweater in grape tones? So were a lot of people, apparently, because a specific shade of purple has been named the 2018 Color of the Year by Pantone.
Mystery and Discovery
The color, Ultra Violet (Pantone 18-3838), is a deep and fruity shade of purple that Pantone Color Institute Laurie Pressman says means, "so much more than 'what's trending' in the world of design; it's truly a reflection of what's needed in our world today."
The Pantone Institute describes the color this way:
"Complex and contemplative, Ultra Violet suggests the mysteries of the cosmos, the intrigue of what lies ahead, and the discoveries beyond where we are now. The vast and limitless night sky is symbolic of what is possible and continues to inspire the desire to pursue a world beyond our own.
Enigmatic purples have also long been symbolic of counterculture, unconventionality, and artistic brilliance. Musical icons Prince, David Bowie, and Jimi Hendrix brought shades of Ultra Violet to the forefront of western pop culture as personal expressions of individuality. Nuanced and full of emotion, the depth of PANTONE 18-3838 Ultra Violet symbolizes experimentation and non-conformity, spurring individuals to imagine their unique mark on the world, and push boundaries through creative outlets.
Historically, there has been a mystical or spiritual quality attached to Ultra Violet. The color is often associated with mindfulness practices, which offer a higher ground to those seeking refuge from today's over-stimulated world. The use of purple-toned lighting in meditation spaces and other gathering places energizes the communities that gather there and inspire connection."
Oh, they could not be speaking our language more if they tried! Mindfulness, mystery and rock stars. Bring it on, Pantone!
Where We're Seeing Purple Lately
If you browse our portfolio, you will see some variations on this shade of purple in our client work. The color palettes we developed for Cottonwood Residential, Modera by Mill Creek, Alister by Mill Creek and The Fillmore Center all use violet shades in some aspects of their marketing design.
As you can see in the Cottonwood palette below, several complementary colors work together. In this case, the colors help create a sense of vibrant homey-ness throughout the brand's marketing materials:
Interior designers started talking about plums and violets in kitchens this past fall, and buyers can now find appliances and cabinets in these shades.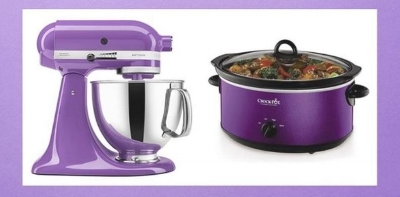 Fashion designers have been using shades of deep purple to create a sense of drama and intrigue. Elie Saab's Fall 2017 Collection used purple extensively.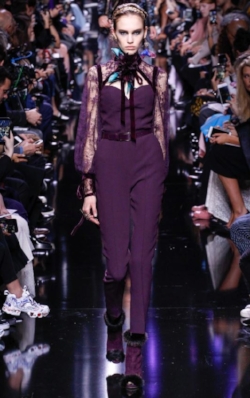 Some brands have been using violet as a signature color for a long time. Famous purple brands include FedEx, Hallmark and Yahoo.
Where You Won't See Purple
As an interesting aside, you apparently won't see purple on many national flags. Why? Purple snails are expensive. (No, really. We'll let Reader's Digest explain that one.)
We are excited to see how this color trend manifests in 2018. We love how colors can evoke emotions and express stories at a gut level. We especially love helping our clients develop meaningful color palettes within their marketing designs.
To learn more about Après Creative's approach to marketing design, contact us. We specialize in branding and marketing for multifamily properties, as well as other cool and interesting brands.