How the right multifamily brand story resonates with renters
The start of a new year marks a great time to reflect and review on your organization's goals and impact. For apartment managers, creating a new multifamily brand story in 2023 can help you better engage with your target renters.
At its heart, brand storytelling seeks to draw in an audience with – well – a great story. Think about sitting around the campfire and listening to the best storyteller you know. That person uses a variety of techniques to hook, intrigue and surprise listeners. If you can bring people into your story and wow them, you set the stage for a more meaningful interaction when it comes time to pitch a lease. 
Evoking emotion
While campfire stories may be few and far between in our daily lives, social media takes on that role for many people. We turn to Instagram or TikTok for entertainment, inspiration and a welcome break from the mundane. 
Think about the social media accounts and brands that you scroll when you need a little boost. What about their posts keep you coming back for more? Likely, their images and messages include one of the following elements: 
Beauty

Truth

Humor

Amazement/awe

Inspiration

Passion/love

Human emotion
As Sprout Social points out, great brand storytelling connects on an emotional level:
"Have you ever felt so connected to a brand that using their product or service made you feel like the person you aspire to be? That's successful brand storytelling.

At its core, brand storytelling establishes emotional connections with people based on the values you share with them and their needs, desires and aspirations. Innovative brand stories convey empathy, create experiences and demand urgency."
We're designers, so we love a great design feed. We also deeply appreciate quirky, tell-it-straight humor and people who don't take life too seriously. Add in a dose of introspective realness, and we're hooked. So, a post like this one from Lauren Hom, who manages a top design-themed account on Instagram, will jump out at us: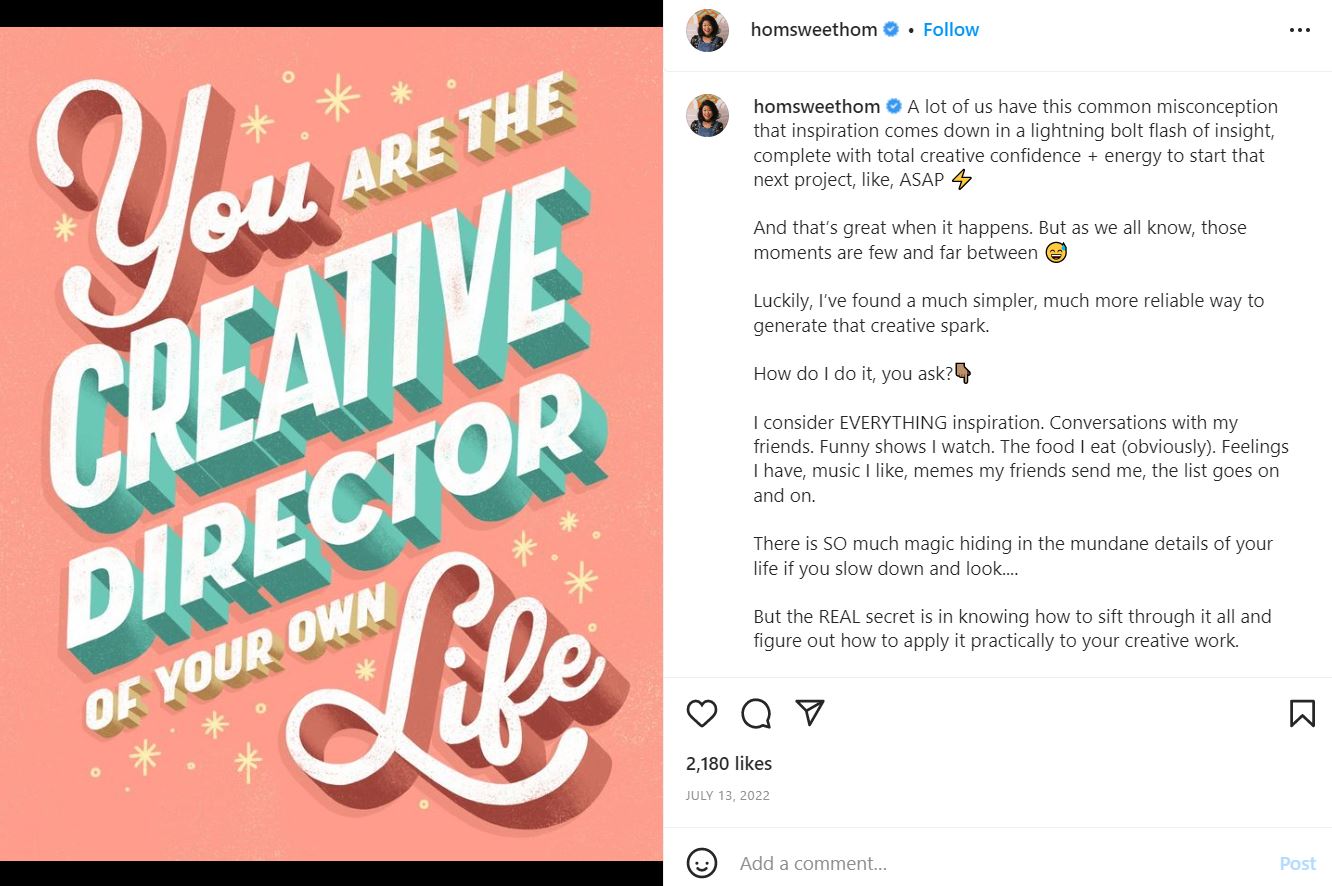 She even used our Apres signature color! What's not to love? While retro font treatments and messages about design work might not be your thing, the lesson here is to appeal to a deeper need for your audience. 
Anything but flat
Your flats' floorplans (see what we did there?) merely scratch the surface of what your community offers. Ditch the 2D view of your apartments and create something that lifts off the page.
That brings us to personality! Your brand story should become a sort of living, breathing representation of life within your community. 
Here's a snapshot of one of our client's Instagram feeds. In these few images, you can tell that Polaris Junction cares about residents and their pets. The community offers a sense of peace, calm and self care as well as a dose of fun.
Your multifamily brand personality should reflect an angle unique to you, your values and your offerings. Keep in mind the lifestyle residents want to experience and how you deliver an experience that meets deeper human needs.

How do you surprise and delight residents? Will people feel a sense of humor in your community? What about a feeling of peace and relaxation? If you consider what has real meaning to you and to your residents, you can begin to tell a story that speaks to people's true needs. 
How a branding pro can help
The best storytellers make it look oh, so easy. While you can DIY your marketing and branding, working with an experienced design and branding firm can ease the load. 
From your color choices and logo treatment to your ongoing marketing and social media strategy, outsourcing can help you create a seamless multifamily brand story. 
Think of outsourcing as expanding the skills and resources of your team. The right branding firm will collaborate with you and will bring a new set of creative ideas and skills to the table. 
Ready to create a memorable and compelling multifamily brand story? Reach out to us to learn more about our collaborative approach.